Hi, I'm Alex.
Years ago, we had a mortgage of over $400,000. We were in huge debt. It felt good to "own" a house, but really it was like a ball and chain. We didn't know what we were doing and when we looked around, no one else seemed to know either. Everyone just kept paying money to the banks for decades. It was really depressing.
Everyone seemed to just block it out of their mind. Stick their heads in the sand. Ignore it.
It was a very negative thing and even just talking about it would make most people feel bad. All that hard earned money being wasted on interest. With nothing they could do about it.
I never wanted to waste our money and more importantly, our life. The last thing I wanted was to:
Be 60 years old and still in debt paying off a mortgage
Be constantly making the big banks rich off our hard work
Have our whole life tied down just so we could own a house
But I bet you've been there. All home "owners" have.
Worst of all there's no one to talk to this about! No one likes talking about their finances, it's more taboo than sex! And forget it if you want to talk about paying it off quicker.
We're never taught in school how to pay down debt quickly or what the best proven ways are to make it easier and automatic. We're never told about how to structure out lives so that the default setting is for it to help us get out of debt.
The only hope is maybe Google?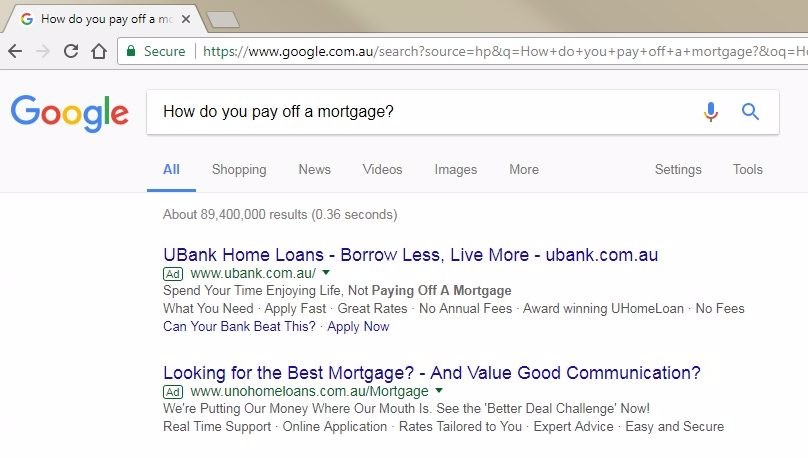 Even there you're just flooded with a sea of 89 million "top 10 lists" or "hacks" that never do anything. And ads of course.
All they do is constantly suggest you "change your repayments from monthly to fortnightly" or "refinance your mortgage to a lower interest rate". Ugh. USELESS!
HOW do you really pay it off quickly? How do you take a 30 year prison sentence and cut it down to 10 years or 7 years or even 5 years!? How? What are the exact details? What do you say? How do you structure your finances? What happens if you can't find any more money to put towards it? What do you do?
You can keep reading all the throw away articles but at the end of the day your mortgage is still huge. You still can't go on that awesome holiday because you've got mortgage repayments to make. You still have to delay having children because you can't afford it.
But it doesn't have to be like this.
After years of reading these articles and testing out all the different advice I built my own system. I then refined that system over many years, building on it and pushing further the things that worked. After a while things started to really take off.
I realised that if we kept doing more of what we were doing it'd mean paying off our mortgage fast. Real fast. Almost unbelievably fast. Six years fast in fact. This is what the experts never tell you.
You can pay off your mortgage early. So early that you can be mortgage free before you even have kids, before you hit 30 and you can do it without cutting back on the things you love too.